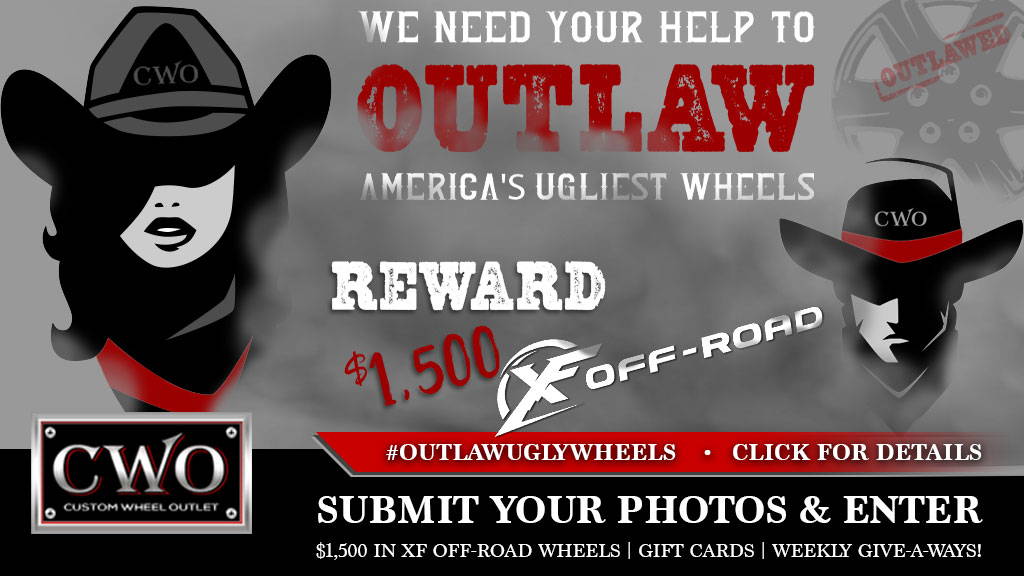 They're Back! Do you own America's Ugliest Wheels?
Again, Custom Wheel Outlet is on a mission to scour America to locate the absolute ugliest wheels! But we need your help. Such wheels should be [OUTLAWED] forever! Our CWO Bandits have been commissioned to look for your photos, watching for #OUTLAWUGLYWHEELS via Instagram and Facebook to locate these nasty perpetrators.
Fear not, for there is hope for America! XF Off-Road Wheels teamed up with Custom Wheel Outlet's Bandits to put an end to the madness. One set of the ugliest wheels in America will be granted a new set of XF Off-Road Wheels of choice! This is a massive $1,500.00 value, free, courtesy of XF Off-Road Wheels and ShopCWO. Keep in mind, the CWO Bandits have been known to drop swag all over this great continent too. So be sure to register for your chance to win weekly prizes via our Outlaw Scratch Game through a free email subscription.
---
This Promotion Ends June 15th, 2023

---
#OUTLAWUGLYWHEELS - Entry Details & More
Three easy and free ways to enter the Outlaw Ugly Wheels Promotion.
1. Simply email us a photo of your ugly wheels and you are entered into the contest. Email Social@ShopCWO.com
2. Login to Instagram and tag your photo with @ShopCWO and #OUTLAWUGLYWHEELS. The photos privacy settings must be "public" in order for your entry to be found.
3. Login to Facebook and tag your photo with @ShopCWO and #OUTLAWUGLYWHEELS. Again, your photo will have to be "publically" visible in order for the entry to be found by the CWO Bandits. You can also comment on the Ugly Wheels Post Directly for a Chance to Win!
Additional Ways to Win!
Join the Outlaw Scratch Game! Every week you will recieve an email with a scratch ticket, use that scatch ticket for a chance to win amazing prizes, discounts and CWO Swag from our CWO Bandits.
---
#OUTLAWUGLYWHEELS - Prize Details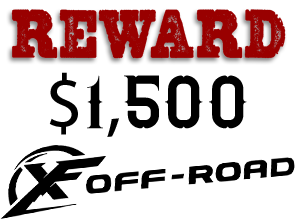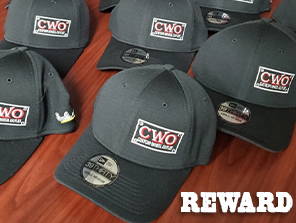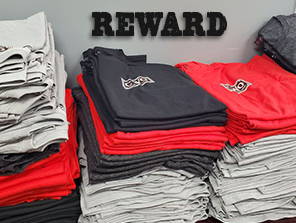 The Grand Prize will be awarded to a photo entry of the Ugliest Wheels in America. The vehicle submitted should be owned by the individual who submitted the photo.
What types of wheels qualify? If you think they are ugly, submit them. These could be factory wheels, vintage wheels, rusty wheels, cheap wheels, common wheels, black wheels, colored wheels, hub caps, mismatched wheels, broken wheels, stolen wheels, no wheels, or damaged wheels. Any wheel you think is ugly, submit it and let the CWO Raiders decide.
If the CWO Bandits believe they are ugly enough, they will OUTLAW those wheels and post it to the @SHOPCWO instagram feed.
---

---
U.S. residents only, residing in the lower 48 states. No purchase necessary. Employee's and immediate family are not eligible. UP TO $1500, No cash back or cash value. By entering, you agree to allow use of your name, photos, social media tags, etc.
2022 Winner of Strada Wheels